---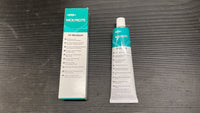 Molykote 33 medium (100g)
Low evaporation. High oxidation resistance. Good resistance to water wash-out.
Resistance moisture and corrosive atmospheres. Inertness. Good shear stability.
Wide service temperature range: -100F to 400F (-73C to 204C). Compatible with many plastics.
Used to lubricate plastic gears, bearings and cams, as well as metal and rubber parts.
SAFE for O-Rings, Rotary Seal and Other EPDM, Rubber and Plastic Seats/Seals/Gaskets.